↵
Address
Unit 801, Unit 2, Building 10, No. 280, Tailiu Road,
Shibei District, Qingdao, Shandong Province, China
Instagram
@ Power by Chinatoupees Own by Shunfa Hair 2022
Contact us
Mobile Phone: +86-135 8934 1657 (Whatsapp)
Email : sales@shunfahair.com
Tel : +86-532-58828295
how to apply toupee on head?
Below is the steps to attach the men toupee:
Firstly, use the towel or cloth to wipe the toupee and wash your head.
With a wet towel or cloth, wipe your scalp clear of any hairpiece adhesive residue. Wash your entire head, scrubbing your scalp thoroughly with exfoliating scalp scrub. Rinse, and repeat. Dry your head fully, and add a layer of waterproof sealant.
Secondly, attach tape to the toupee.
Toupee tape is double-sided which allows one side to stick to the toupee and the other to stick to your exposed scalp. Follow the contours of the toupee and do not get any double-sided tape stuck to the hair. Follow only around the edges of the base of the toupee.
Thirdly, Measure where you hairline should be with your fingers.
Hold your pinky finger over your eyebrow and wherever your index finger touches your scalp is your hairline. You want to get this right because if the hair is too high up it will make you look like you have a receding hairline and if it's down too low it will look strange and people will easily be able to tell that it's not natural.
Finally, Rub water on your scalp to ensure it is clean.
Adding water to the scalp also slows the bonding process of the tape, allowing you to relocate your toupee on your head in just the fashion you want it to be.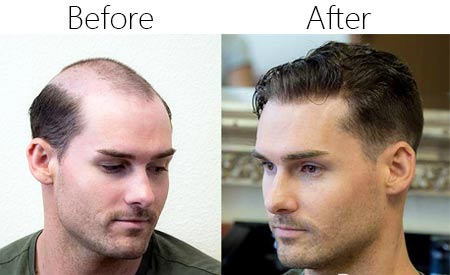 Ease the toupee on your head and do not push it down to activate the double-sided tape until you are satisfied with the way it looks.
Last but not the least, to appear natural, a toupee must be cared for with far more diligence than your natural hair.